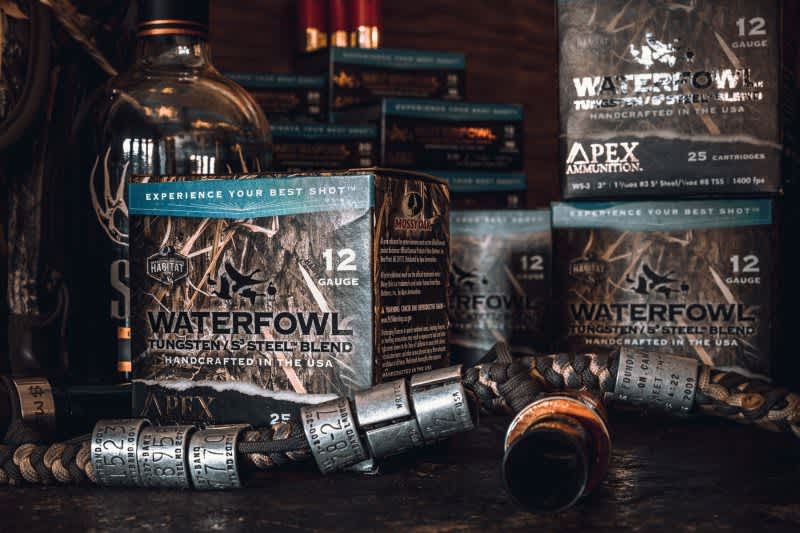 In preparation for nearly any upland or waterfowl hunt, you'll want to bring along the quality gear that will leave nothing to doubt when valuable bird tags are on the line. Apex Ammunition and Mossy Oak are proud to announce their latest joint offering in the form of a Mossy Oak Licensed limited edition offering featuring Mossy Oak's Shadow Grass Habitat Waterfowl camo pattern and Apex's premium shotgun components including both No. 3 S3 Zinc-plated steel and No. 8 TSS for a flexible and effective bird hunting load.
More Shotgun Ammunition on OutdoorHub.com: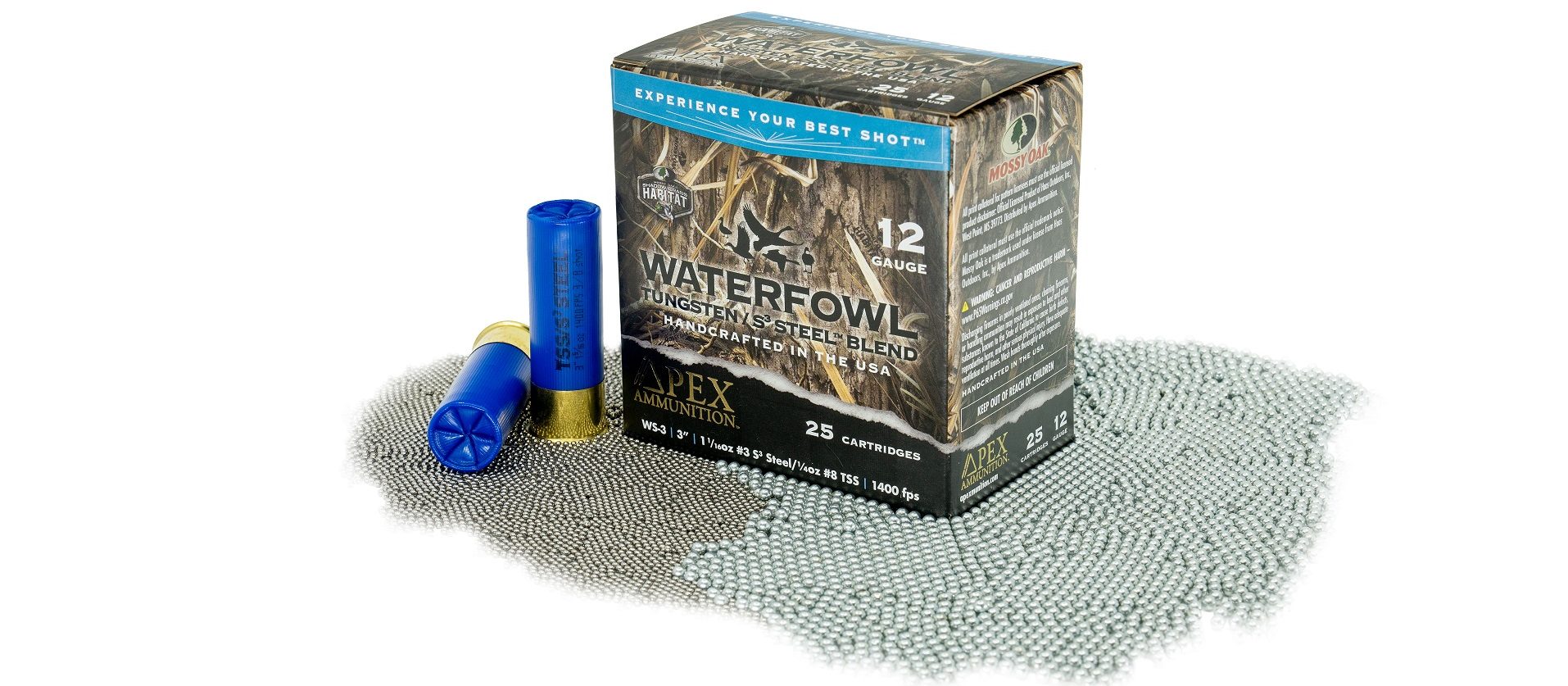 Apex Ammo's New "Duplex Load" Mossy Oak Shadow Grass Ammo
Columbus, Miss. (September 22, 2022) – APEX Ammunition, makers of premium, ultra-high-density Tungsten Super Shot (TSS) shotshells, is pleased to introduce its new limited-edition, Mossy Oak Shadow Grass Habitat Waterfowl Blend.

Available in 3-inch, 12-gauge shells, this handcrafted "duplex load" combines No. 8 TSS with No. 3 S3 zinc-plated steel for a versatile, hard-hitting load whether you are shooting over decoys on opening day or trying to bring down warier, late-season waterfowl.
The new Mossy Oak Shadow Grass Habitat Waterfowl Blend shotgun ammunition will be available in quantities of 25-rounds per box for a price of $51.99 per box or $489.99 per case of 10-boxes. The Mossy Oak Shadow Grass Habitat Waterfowl Blend is available for purchase through the APEX Store, Mack's Prairie Wings, and Rogers Sporting Goods. for more information you can visit any of the links above to get more information on this new ammunition offering from Apex.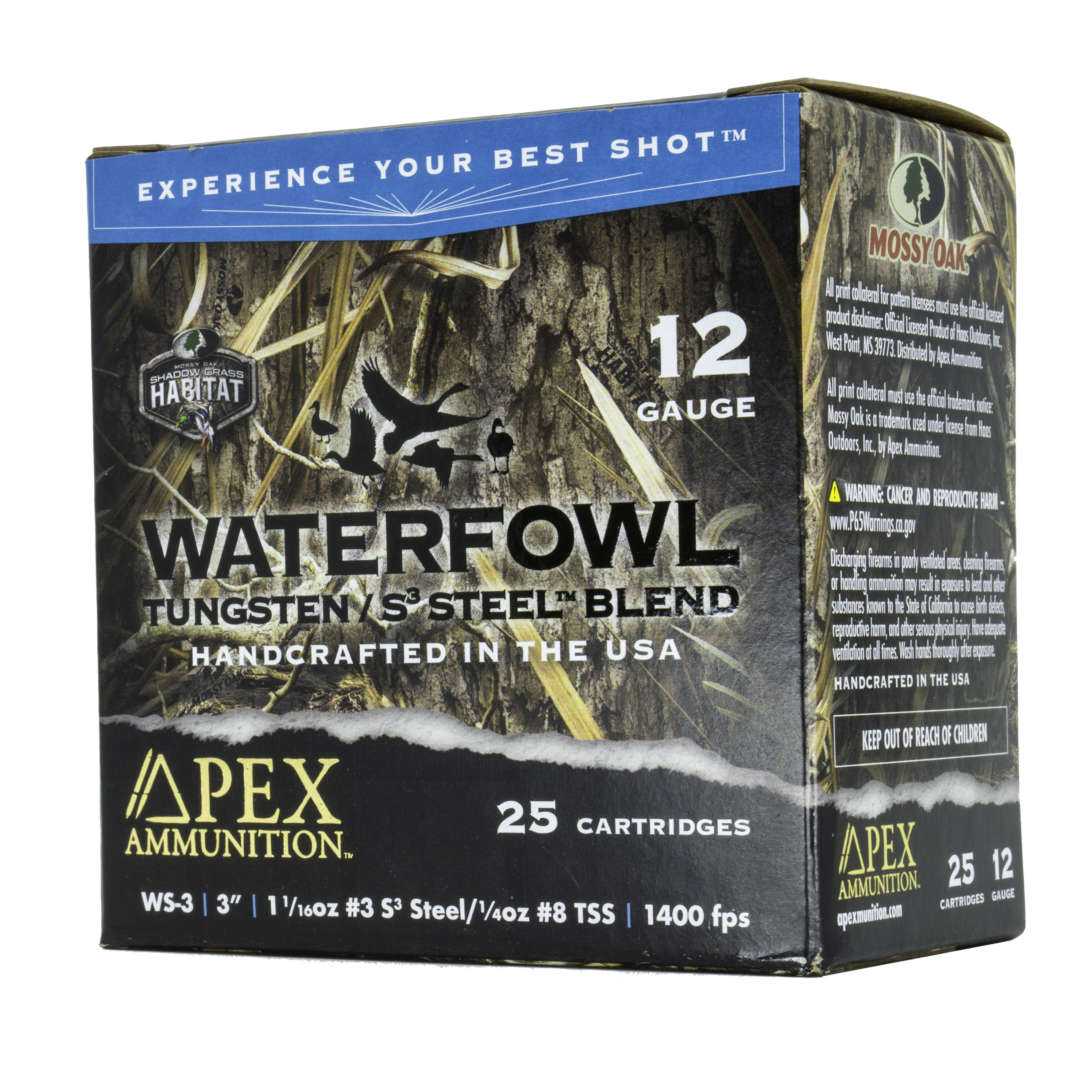 The zinc coating on the premium grade APEX steel shot ensures uniform pellets for optimum patterning in a steel load and, when combined with 18.1 g/cc TSS, helps deliver a harder hitting payload with improved terminal performance to reduce crippling.

"We are excited to partner with our friends at Mossy Oak on this new offering," said Jason Lonsberry, CEO, APEX Ammunition. "This load comes in a box featuring the Mossy Oak Shadow Grass Habitat camo pattern and offers hunters a new combination of shot sizes with deep penetration and lethal energy transfer."

"Mossy Oak is excited to partner with APEX, one of the most reputable ammo manufacturers, to offer waterfowl hunters the Shadow Grass Habitat Waterfowl Blend that brings the best of both worlds for waterfowl ammo into one shell," said Chris Paradise, Chief Sales Officer of Mossy Oak.